Hi, my name is Luisantonio.barrera.9277, I am the Founder of this page, Max Steel Reboot. In this page I've created, you will be free to edit the Articles in this Wiki. I will be very glad if you have any other friends that are fans of Max Steel, because I will like them to also be in this Wiki and edit things. You are welcome here, and remember, Let's Go Turbo!
My favorite pages
My favorite villains
My favorite heroes
My favorite episodes
The Birth of Max Steel Reboot Wiki
Me, User: Luisantonio.barrera.9277, was a kid who loved cartoons. I am a brony and also a kid (Or I should say teenager) who loves animated cartoon series like TMNT 2012, Max Steel, My Little Pony, etc. But since I loved those, my friends at school rejected me! I talked mostly about Max Steel at school to my friends. But they rejected me, as I said (Some of them). So I wanted to prove them that they were wrong that it was for little kids. So after my 12th birthday, I started a Wiki of my own to prove them that not only little kids like Max Steel. But I tried to show that there were people my age and older (also younger) who like Max Steel. I tried to show them my Wiki, but I never did. So I didn't planned on making a Max Steel wiki actually, it was just to prove to them that they were wrong and that I was right. But I don't want to leave this Wiki, because I think that I am with my family of Max Steel fans.
Halloween Contest Costume 2013
This was the first time I did this. It was very awesome. I changed the Wiki. I turn it into a black, orange, and purple color. I also changed the background image, but I put two.
The first one was an image of Extroyer in this normal mode. It was this one: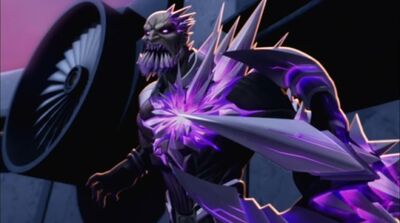 I was happy and excited that this Wiki would win, but then a new episode of Max Steel aired the same month. So I watched it and it was about Extroyer, which was titled, Making the Grade. Then I remembered my reaction to Extroyer's new mode, Extroyer Demon! I was like, "Wow! This is a very cool mode for Extroyer. And it looks very creepy looking for me. And a mix of all of Extroyer's modes! Wow!"
But then, I had an idea. I was like, "Why don't I change the image into an image of Extroyer Demon?"
So then I did! I changed it into this image: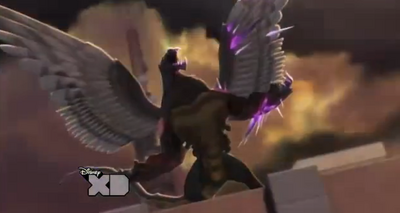 So then, the day came and then, we didn't win. First place was taken by the Harry Potter Wiki. But I hope that next time, we might win because there is always next time.
Wordmark Contest in Max Steel Reboot Wiki
Hi, I want to tell you that I am starting this contest. This contest is called Wordmark Contest. You are wonder what is this. This is a contest to help me for something. So yesterday, I was in this wiki, then some Mexican guy found this Wiki, then he told me that the wordmark I was using belonged to him, that he was the creator of the wordmark. Then he was telling me to remove it, but I was asking for him for the website where he made it, or if he could make one, but he decided not to and he gave me the website, but I cannot do it. I don't know how to. Then I removed the wordmark, as you can see. But I need your help to make me a new wordmark. I really need your help for this.
But like all contests, there are rules. This one have rules that you should follow. Here are the following rules:
Do not use the same Wordmark that was in this wiki.
It can be made or used an image that exists, but has to be good and not so sloppy, nor dirty, etc.
Can be any theme, like Halloween or something, but if it is for a holiday, I will save it in my computer, then use it sometime.
The Wordmark should be a .png file that is 250 x 65 pixels or less.
The wordmark should be the theme of Max Steel, no other character from another series or something in the style.
Can be about Max Steel and a villain, or also an image from the show. 
So those were the rules of the contest. So good luck. If you made an image, he can comment it under this, or also even sent to me in my message wall. This contest will start on November 17, 2013, and the due on January 25, 2014. You can sent them to me went ever you want, but should not be after the day that it is due. I will announce the winner on January 26, 2014, the next day. I will choose the one that is very interesting to me. Then the winner will be announced as a blog post, and also announced on the winner's message wall. Then the winner will win a price. I am not sure what the price will be, but I will tell the winner when the winner is announced. Then the winner will have to give me their address, then the price will be sent in the mail. Then if the winner receives it, then he or she will have to tell me if they received it. If not, then I am very sorry. Now let the contest start now!
Wordmark Contest Wordmarks
The Winner of the Wordmark Contest is... 
The winner of the Wordmark Contest is..... User:Extroyer! This was the wordmark he made:

This was my favorite Wordmark and it was the best one I saw. Good guy for the people that were in the Wordmark. This was the best one I liked. I will inform Extroyer about it. I will send him his prize, a DVD of Max Steel with two episodes, Secret Identity Crisis and C.Y.T.R.O Attacks!, which some Max Steel Bonus Clips and other clips of Max Steel. Congratulations Extroyer! You won! Go to my gmail, Luisantoniobarreratorres@gmail.com! Then send your address and then I will send you your prize in the mail to where you live.
Polls
What you think about the Wordmark Contest?
What should I add to this Wiki that other Wikis have?
Community content is available under
CC-BY-SA
unless otherwise noted.