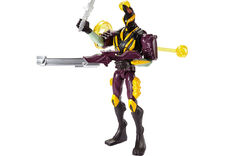 Ultra Hunt Ven Ghan
is an action figure based on
the character with same name
. He was released in 2014 on the second wave of action figures as a part from
Land Invasion
subline.
Description
Instead of the previous release, this figure represents Ven-Ghan more accurate to the TV show, also coming with more weapons. His helmet is black with yellow details and white spheres representing his eyes, and the typical Mohican sticking out of his head. His wears a black and purple armor with yellow details on the neck and chest, with the paint following the same markings as the first release of Ven-Ghan's figure. His biceps are covered by purple biceps pads which cannot be removed since it is a part of the sculpture. His capsules were also painted with yellow and he wears black gloves and boots with yellow knee pads. He has twelve points of articulation, and comes with four accessories and three projectiles.
He comes with a purple and silver gun capable of launching a transparent yellow projectile with the shape of an Ultralink sphere. At the same time, this yellow projectile can also work as a shield when inserted on Ven-Ghan's biceps pads. He has a spherical purple "backpack" capable of shooting three Ultralink spheres at the same time when the backpack is pressed against his back. He also comes with his signature sword, which possesses the same sculpture as the first release but it is slightly different due to the transparent mold.
Trivia
Most of the sculpture used in this new figure was taken from the previous, and also the first, Ven-Ghan action figure. There were few modifications on the sculpture, colors and painting.
Community content is available under
CC-BY-SA
unless otherwise noted.