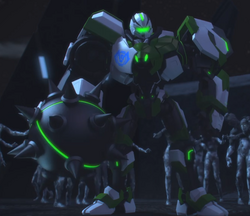 Turbo Wrecking Ball Mode
is
C.Y.T.R.O.
's second
Turbo Vehicle Mode
. It debuted in
Team Turbo Fusion-Tek
.
History
C.Y.T.R.O.'s Turbo Wrecking Ball Mode was created by Professor Mortum in order to reach the robot's maximum potential to hunt down Maxwell and Steel. After Max escapes from Tempestra and La Fiera, C.Y.T.R.O. suddenly appears and attempts to crush Max with his wrecking ball, but he manages to escape and end up on the sewers.
After some time, the trio find Max and Steel and C.Y.T.R.O. attacks Max once again. Eventually, Max manages to link with Steel once again and he creates three receivers that would break the control of Mortum over his friends. C.Y.T.R.O. was the second member to have the receiver implanted on him. Shortly after, he attempts to defeat Max, but the hero manages to escape. Later on, after Max implants the last receiver on Tempestra, the trio attempts to kill him, but he successfully breaks the control of Mortum over them.
Afterwards, they realize that a mental link was created. Max's team then heads to Mortum's temple and C.Y.T.R.O. attacks him with his wrecking ball. Ultimately, the villain is defeated, but he returns and more powerful than ever. C.Y.T.R.O., alongside with Tempestra and La Fiera, are cornered by the robot zombie horde, but Rayne remembers about the mental link, which allows them to share their powers with Max to create Turbo Mega Mode. C.Y.T.R.O. shares his wrecking ball with Max and humorously asks to Max "kick his [Mortum] hindquarters". With his brand new Mega Mode, Max tosses Mortum with C.Y.T.R.O.'s wrecking ball and ultimately impales his Connect-Tek Sword on the villain's abdomen, thus exposing the brain bank. Max destroys it and puts an end to the Technopocalypse.
Abilities
Superhuman Strength: Due to the fact that C.Y.T.R.O. is a robot, he is much stronger than an average individual.
Superhuman Durability: C.Y.T.R.O.'s armor is highly resistant, as he could resist to many blows from the robot zombie horde.
Flight: He has small propellers on his back that allows him to fly.
Wrecking Ball: C.Y.T.R.O. obtains a retractable wrecking ball on his right arm.
Appearance
Gallery
Trivia
Community content is available under
CC-BY-SA
unless otherwise noted.