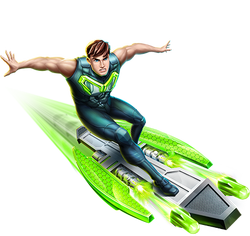 Turbo Wave Rider Mode
is
Max Steel
's twenty-eighth
Turbo Mode
and Max's third technological mode. It debuted in
Turbo-Warriors
.
History
Max transforms into Turbo Wave Rider Mode and activates his surfboard and when he reaches the water, he does various maneuvers. When he finds Rayne, Alex and C.Y.T.R.O., he points out how beautiful the day was and asks to Steel come and have some fun. Suddenly, the Elementors attack and Max commands Alex and C.Y.T.R.O. to evacuate the citizens from the beach while Rayne would handle the tsunami. Max saves all surfers and reunites with Alex and C.Y.T.R.O. and the group realize that tsunami was about to devastate Copper Canyon. C.Y.T.R.O. sees a building which they could use as a dam to contain the water. After doing so, the Elementors show up and Max uses his surfboard to fight against them. Eventually, they retreat after Terrorax contacts them confirming that he had managed to steal the Terror Energy Generator.
After the Pantheon was taken down by Max and his team, he activates Turbo Wave Rider Mode to surf on the sea as a commemoration for their victory.
Abilities
Hover board: Max gets a specially designed hover board that expand its sides to reveal projectiles launchers, allowing Max to fight his enemies on the air, sea or land. Max can also attach the hover board on his back to become a jet pack.
Appearance
Max wears a black and grey wetsuit (portrayed as dark green with silver details on the stomach on the toy line) with a green logo with the shape of the letter M. Max also comes with green and silver techno-surfboard equipped with missile launchers.
Gallery
Trivia
The design of this mode is heavily inspired by Surf Attack Max Steel, an action figure of the classic series.
In the Official Website, the name of this mode is "Turbo Wave Blast Mode" rather than Turbo Wave Rider Mode.
Community content is available under
CC-BY-SA
unless otherwise noted.