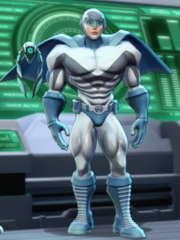 Turbo Super Mode is a Turbo Mode that Max hates, but Steel loves. It was officially named Turbo Super Mode in Ultralink Hunter, but was first used in Supermania. It uses Activation Phrases to activate powers similar to those of a Superhero, hence the name.
Origins
Max Steel first used Turbo Super Mode in Supermania, under the guise of Turbo Super Flight mode, due to Steel being obsessed with Superheroes at the time. Pretty much everyone except for Steel thought it looked ridiculous. By the end of the episode, Steel agreed to go back to the old Steel Suit.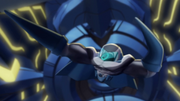 Super Mode returned in Ultralink Hunter, where Steel used it once again, much to Max's annoyance.
Activation Phrases
KA-POW; activates Laser vision.
KA-BOOM; gives physical attacks extra power.
Let's jet; Flight.
Ka-choo; hacks into technology.
Trivia
Community content is available under
CC-BY-SA
unless otherwise noted.