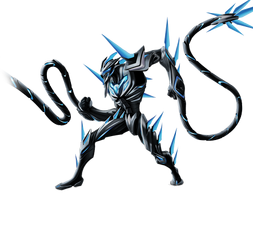 Turbo Spike Mode
 is
Maxwell McGrath
and
Steel
's eleventh
Turbo Mode
. This mode is a ninja-like that has turbofied spikes on the two long black whips. It first appeared in
Definitely Fear the Reaper
.
Origins
Steel discovered this Turbo Mode when he scanned the turbofied rock that contained a spike from the old Max Steel, making new memories appear, including this Turbo Mode.
Abilities
Turbofied Spikes: With Max's T.U.R.B.O Energy, he could concentrate the energy on the spikes, making them powerful.
Giant Whip: Max has two powerful whips in each arm, that can be used to grab or attack something, along with the turbofied spikes on the end of it.
Enhanced Abilities: Max's reflexes and agility are increased.
Extensible Spikes: The crystals on his armor can be extended.[1]
Weaknesses
Decreased Durability: Max is more vulnerable to damage in this form.
Trivia
Jim McGrath used to have this Turbo Mode, since inside the rock, there was one of his Turbo spikes.
Max can swing the whips all over the place.
It is one of the leanest, meanest modes in Max's arsenal
References
Cite error: <ref> tags exist, but no <references/> tag was found
Community content is available under
CC-BY-SA
unless otherwise noted.