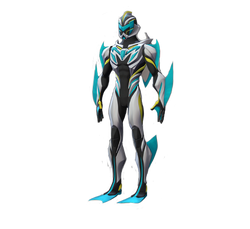 Turbo Scuba Mode is Maxwell McGrath and Steel's fifth Turbo Mode. It allows the user to adapt to any aquatic enviroment. It first appeared in Hard Water.
History
Max and Steel were looking for clues of the abductions of people, but they had to go underwater. Steel decides to create Turbo Scuba Mode to explore the ocean.
The mode made a brief appearance while Max and Steel combined it with Turbo Heat Mode to create Turbo Hydro Heat Mode to face Toxzon.
Appearance
Max Steel's face now looks kind of like a knight, and his body is skinny and tall. He has muscular arms, with a six pack. He has yellow, green and blue stripes on his suit, and it's black and white. He also has fins and it looks like he has a fin arms, and legs.
Abilities
Enhanced Abilities: When this mode is used underwater, the agility, strength, and speed increases.
Enhanced Armor: When used, Max is able to survive pressure of up to 10,000 pounds per square inch, depths of 40,000+ feet and extreme temperatures of 2* C.
Gallery
The Gallery of Turbo Scuba Mode can be seen Here.
Trivia
.
Community content is available under
CC-BY-SA
unless otherwise noted.