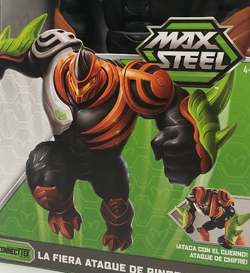 Turbo Rhino Mode
is one of
La Fiera
's
Turbo Animal Modes
.
History
Abilities
Superhuman Strength: Due to its size and weight, La Fiera possesses immense strength.
Horns: La Fiera can attack his foes with the horns on his head or with those on his gauntlets.
Appearance
Compared to other of La Fiera's modes, Turbo Rhino is much larger and bulkier. La Fiera has a orange helmet with a pair of dark grey horns and a T-shaped visor. He has circular orange rips around his neck, a white chest piece with Team Turbo's green logo, three rips on the left side of his chest with small yellow lozenges. His right shoulder has a white shoulder pad while his left shoulder features a orange pad, and he wears green forearm pads with a pair of spikes protuding from them on both arms from them and possesses large hands. He also has black black thigh pads and orange boots with three toes similar to that of an actual rhino.
Trivia
This mode gained an action figure in the first wave of action figures from 2018.
It is the third mode of La Fiera's arsenal to be orange, the first being Turbo Tiger Mode and the second Turbo Eagle Mode.
Community content is available under
CC-BY-SA
unless otherwise noted.