Turbo Exo Strength Mode
 is
Maxwell McGrath
and
Steel
's eighteenth
Turbo Mode
. It is the upgraded version of
Turbo Strength Mode
and was considered Max's most powerful mode. It first appeared in
Maximum Morphos
.
History
After entering Ja'em's Takokian ship, Max uses its energy to reverse the mutation that Morphos caused on Copper Canyon's citizens and in the process unlocks Turbo Exo Strength Mode. Determined to take him down, Max charges at him and throws a powerful Turbo-powered punch that tosses him at the wall. They ask him if he likes the new Exo Strength mode, in which Morphos replies that he would put it in their grave while he runs towards them. He uses his superhuman strength to toss Max around and proceeds to say that he has all the powers of his enemies, yet Max says that they never were able to defeat him and that he wouldn't as well. He charges his suit and removes one of his arms of his body. Angry, Morphos charges at him but Max lands few punches and tosses him in the air and kicks him to the ground. As a result, his arms fall apart and he starts to regenerate them while saying that he couldn't be defeated and that he simply would adapt himself. Max responds by launching a powerful T.U.R.B.O-powered punch that hits his cavity where his matrix was located, which leads to his ultimate defeat. After saving the day, Max deactivates Exo Stength mode.
Mini Episodes
Abilities
Superhuman Strength: As the upgraded version of Turbo Strength Mode, Exo Strength is even more powerful, with Max being able to toss around Morphos with ease. By using more of his T.U.R.B.O. Energy, his strength can be increased even further.
Superhuman Durability: The mode has an extra layer of armor that is very resistant to the point of enduring Morphos' multiple powers at once.
Enhanced Mobility: Though the mode is bulky and large, the armor is very flexible and grants Max an enhanced mobility, as he was able to kick Morphos in the air while jumping.
Enhanced Jumping: Max is able to execute high jumps, as seen when Max kicked Morphos in the air and proceeded to jump to kick him again.
Enlargement: By focusing more T.U.R.B.O. Energy, the extra parts in the armor can be expanded.
Turbo Punches: Max is able to throw powerful T.U.R.B.O-powered punches through his fists.
Appearance
Gallery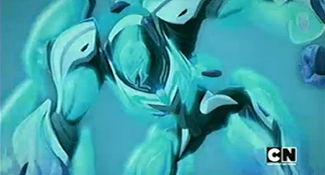 The Gallery of Turbo Exo Strength Mode can be seen Here.
Trivia
The mode has two action figures released (Exo-Tek Max and Exo Strength Max Steel, even though they have a different design than the one used in the animation.
It is unknown if Max Steel is able to use this Turbo Mode again.
As seen in Terrorsaurus, Max is able to deactivate the transparent blue armor if he wants to.
Community content is available under
CC-BY-SA
unless otherwise noted.