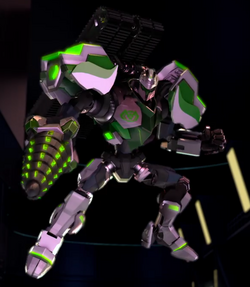 Turbo Drill Mode
is
C.Y.T.R.O.
's third
Turbo Vehicle Mode
. He unlocked it on
Turbo-Charged
.
History
After Terrorax introduced to Tempestra and C.Y.T.R.O. to one of his minions, Monstro, the creature attacks the duo with small mutants that came out from his body. C.Y.T.R.O. decides to create Turbo Drill Mode, which he uses to bury the creature. After few minutes, C.Y.T.R.O. emerges from the ground and humorously says that there was sand on his engines.
He later on activates Turbo Drill Mode to fight against Team Terror on Terrorax's Hideout. C.Y.T.R.O. fights against Snare, but he is quickly defeated by one of the robot's traps.
At the Pantheon, C.Y.T.R.O. actives Turbo Drill Mode in order to fight against the Elementors. At the beginning of the battle, the Elementors were with the upper hand, but after Team Turbo helped each other, they eventually defeated them. However, Metallak quickly recovered and decided to absorb his brothers and their Terror Energy onto himself, which resulted in a mutation that made him gigantic and much stronger.
The villain easily overpowers them, but with some effort, they were able to take him down. While Tempestra immobilizes Elementor by freezing him, C.Y.T.R.O. sees an opening and reconfigure his body to create a drill, which he uses to create a hole on the villain's back. Afterwards, La Fiera enters on his body and damages his inside, which causes his death. After their victory, C.Y.T.R.O. shouts "teamwork!" and they proceed to search for Max before the Pantheon falls.
Abilities
Superhuman Strength: Since C.Y.T.R.O. is a robot, he is stronger than an average individual.
Superhuman Durability: C.Y.T.R.O.'s armor is very resistant.
Drills: C.Y.T.R.O. gains a green drill on his right arm.
Wheels: C.Y.T.R.O. gains wheels attached to his back.
Appearance
This mode mostly resembles C.Y.T.R.O.'s base mode, but with few alterations. Rather than having a cannon on his right arm, he has a black drill with green details and black wheels attached to his back.
Gallery
Trivia
The model used in the Turbo-Charged film recycles some parts of Turbo Chopper Mode. This was most likely done to save money, as the toy features a much different design.
Community content is available under
CC-BY-SA
unless otherwise noted.