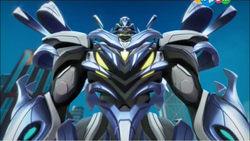 Turbo Annihilation Mode
 was a mode that
Makino
forced
Maxwell McGrath
to create, later used in
Jim McGrath
. This mode has similar abilities when compared to the hosts that
Makino
previously linked, but instead, the size of this mode is giant. It debuted in
The Wrath of Makino
.
TV Show
After Makino successfully managed to link with Max and took control over his body, he created Turbo Annihilation Mode, used to destroy cause havoc on Copper Canyon. Makino created a drill with parts of his army and started the destruction of Earth, until Jim McGrath appeared and started to bother him. Eventually, Jim was defeated by Makino but Steel managed to break Max's connection with Makino and he managed to break free from his control, escaping from its mind and linking with Steel once again.
Shortly after Makino fell from the armor, he saw a unconscious Jim and seized the moment and then linked with him, creating the next iteration of Turbo Annihilation Mode. Afterwards, he teased Max that he knew how to use Jim's powers and how he didn't believed on the potential of his son. He started to use his drill once again to destroy Earth but Max showed up again, this time using his brand new Turbo Mode,
Turbo Titan
. Makino showed to be a way stronger than before and managed to give a good beating on Max and Steel. Eventually, they managed to unlink Makino from Jim and the mode was undone once for all.
Abilities
Superhuman Strength: Like other Ultralinks and modes, this mode is stronger than an average individual, mainly because of its size. According to Max, his second form gets two times stronger than his first form.
Size: This mode grants the user increased size.
Super Lasers: This mode has the ability to shoot super powerful lasers, powerful enough to defeat Jim easily. Makino can also launch lasers through the sphere on his torso, but only on his second form.
Weapons Creation: Makino can create weapons on the fly such as a Destabilizing Drill that he was using to tear Earth apart.
Appearance
Gallery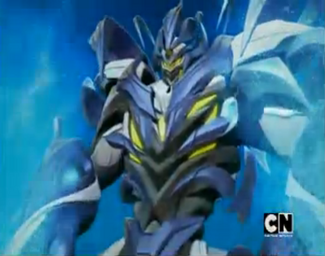 The Gallery of Turbo Annihilation Mode can be seen Here.
Trivia
After being unlinked from Makino, Max says that he was slowly forgetting all the memories of when he was under Makino's control, but he still remembered something, which was Turbo Titan Mode.
Community content is available under
CC-BY-SA
unless otherwise noted.