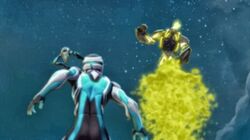 Toxzon Radioactive is one of the transformations of Toxzon. This transformation was used after Toxzon sunk in the ocean as Toxzon Toxic Bacteria and then into Toxzon Neutralized. Then he fell on a barrel with radioactive toxins. So he opened it and then he absorbed the radioactivity, which the barrel contained. Then he poisoned the ocean, turned fishes into Toxic Piranhas and kidnapped fishermen. He wouldn't stop, until he got what he wanted, Fishy. Then when he received Fishy back and absorbed the radioactivity from the ocean, he later turned very powerful and used his powers on Max Steel and N-Tek. Then when he was heading to Copper Canyon, Max locked him in one of the barrels, then locked up in the Chemi-Vault. This transformation first appeared in Gone Fishin'.
Origins
When Toxzon Toxic Bacteria was defeated by the salt water of the ocean, his toxin was destroyed by the salt water. Also, that caused Toxzon to lose Fishy. Then he turned into Toxzon Neutralized and then he landed on the bottom of the ocean, but then he noticed that he landed on some barrel fill with radioactive waste. So he opened it, then he absorbed the radioactivity. Then he turned into his new mode, Toxzon Radioactive. Also, this made him have the chance to have his revenge and to find what he wants, Fishy.
Gallery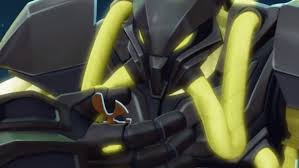 The Gallery of Toxzon Radioactive can be seen Here.
Trivia
This is a yellow color.
The mode was seen in a more powerful mode, which a lot of the Radioactive Waste.
This is one of Toxzon's most powerful modes, since he held the world hostage with his power.
He was imprisoned in the Chemi-Vault.
Community content is available under
CC-BY-SA
unless otherwise noted.