The Ultralink Hunter


Season 2, Episode 8
Information
Air Date
August 15, 2014
December 5, 2014 (YouTube)
Written By
Steve Sullivan
Directed By
Daniel Ife
Episode Guide
Previous
Next
Deep Turbo Blue Sea
Digital Meltdown
styl
The Ultralink Hunter is the eighth episoode of the second season and the thirty-fourth episode of Max Steel. It was written by Steve Sullivan and directed by Daniel Ife. It aired on August 15, 2014 and was released on YouTube on December 5, 2014.
Synopsis
It's up to Max to rescue Steel and Ven-Ghan. He's up against Ultimate Elementor in Turbo Super Mode. Problem is, that's his only mode!
Plot
Cast
Events
Continuity
After seeing a clip from the battle on N-Tek's undersea base (from Deep Turbo Blue Sea), Metal Elementor realizes that Ultimate Elementor wanted him to die underwater.
Turbo Super Mode, from Supermania, is seen once again.
Max appears wearing again the Flying Roden Man t-shirt again, seen in Supermania.
Hero-Man, who made its debut in Supermania, reappears when Max crashes in a billboard with a image of his. He appears wearing an outfit with different coloring, being orange with light green accents.
Noteworthy Events
Featured Characters
Gallery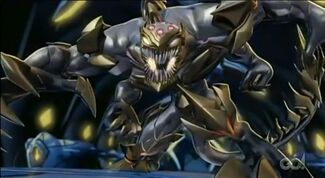 The Gallery of The Ultralink Hunter can be seen Here.
Trivia
Ven Ghan was called by a mysterious alien from the Black Star Council.
For unknown reasons, Ven-Ghan is accompanied by solely one Ultralink sphere rather than three of them like he did in his first appearance during the two-parter Ultralink Invasion Part One and Ultralink Invasion Part Two. The Ultralink sphere that he uses to capture Steel is also the same one that he used in said episodes, albeit with a lighter orange coloring.
Metallak mentions in this episode that he was the one responsible for destroying Ven-Ghan's planet, Kaduonn, and that he was the last survivor of his kind.
Community content is available under
CC-BY-SA
unless otherwise noted.