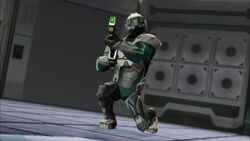 N-Tek Agents
are people that work for the top-secret organization, 
N-Tek
. N-Tek Agents are people that work there and they help out the place by saving the Earth. Some of the N-Tek Agents are scientists and also people that fight villains. The N-Tek Agents are not allowed to talk about their job at N-Tek. Some N-Tek Agents are heroes and some are ones that retired or were fired from N-Tek, then turned into villains and are against N-Tek. There are also some that are named and some that are unnamed, like the ones that are in lab coats and talk sometimes, or like the ones that are in armor and suit, that look alike with their suits and they carry weapons or drive 
N-Tek R.O.C.C
 and 
N-Tek Jump Jet
, but seem to be clumsy. The N-Tek Agents first appear in 
Come Together Part One
.
List of N-Tek Agents
Community content is available under
CC-BY-SA
unless otherwise noted.