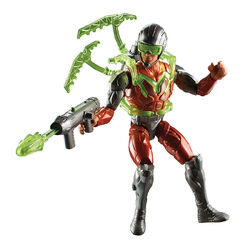 Mountain Combat Max Steel
is one of the character's action figures released in the first wave of action figures of 2017. It was initially released under the subline of
Turbo Missions
, but it was later moved to the line of
Turbo-Charged
.
History
Mountain Combat Max Steel VS Bat Mortum: Can Max destroy the protective armor of Mortum and smash it to pieces?
Official Description
"Join Max Steel on extreme mountain missions with this ultimate deluxe 12" action figure! Max Steel is geared up for combat in a backpack with a special helicopter mechanism, a projectile launcher, 2 pick axes, goggles and a climbing drone, that surveys the rocky terrain ahead. And that's not all, Max has an automatic scaling mechanism to hoist him up to peak heights. With his multiple Connect-Tek ports, you can switch weapon accessories to engage in a variety of cliff-shredding battles. When he comes face to face with the lethal Mortum, Max can hurl a climbing hook at his wing or Mask to remove them and bring the villain down!"
Description
Gallery
Trivia
Similar to Jet Strike Max Steel and Armored Elementor, this action figure was initially listed as a part of the Turbo Missions toy line, but it was later moved to the Turbo-Charged subline for unknown reasons. Additionally, Max didn't used this mode in the film with the same name, but instead he used it on Turbo-Warriors, which aired after the release of the figure.
A commercial for Bat Mortum and Mountain Combat Max Steel was made in 2017.
Community content is available under
CC-BY-SA
unless otherwise noted.