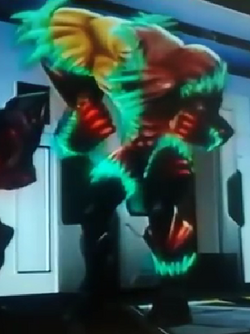 Morphos Miles Dread Mode
is one of
Morphos' Transformations
. This mode is
Morphos
after using his tentacle on
Miles Dread
when he was in
his main mode
. Morphos Miles Dread Main Mode debuts in
Max Steel: The Dawn of Morphos
.
Origins
When Morphos was desperate for some answers from Miles Dread, they started to fight, and in the middle of the fight, Morphos released his tentacle and absorbed Miles Dread's powers, creating his new mode.
TV Show
When Miles Dread and Morphos discussed, he went on rampage, and got this mode. However, while Morphos was about to kill Dread, he teased him about the device that would complete him, making him stop. This mode was later used to invade the apartment of the McGrath Family, and in the final battle against Max Steel.
Gallery
Trivia
This mode copies the DNA code of Miles Dread.
Just like Miles Dread, Morphos can also fly with this mode.
Morphos Miles Dread Main Mode is the third mode of Morphos that has flight abilities.
This is one of the few modes of Morphos in where the mode doesn't originate from Max Steel.
This mode was one of most used modes in Morphos' arsenal, especially when he fusioned it with other modes. Morphos also teased Miles Dread saying that he was about to destroy him with a part of his arm.
Community content is available under
CC-BY-SA
unless otherwise noted.