Welcome to 

Max Steel Reboot Wiki!}



Like our page on Facebook!
About Max Steel!
Max Steel is a toy line created by Mattel in 1999. It initially started as a toy line but later a TV show was created, which ran from 2000 to 2003, later having direct-to-video movies released every year. In 2013, the franchise was rebooted.
The story is about a teenager known as Maxwell McGrath who recently moved to Copper Canyon with his mother, Molly McGrath. There, he realizes that he can generate a powerful energy known as T.U.R.B.O. Energy. He is taken to N-Tek, a top secret agency commanded by Max's uncle, Forge Ferrus, where he meets an alien known as Steel, the only being capable of controlling Max's energy. Together, they bond and create the superhero Max Steel, who will fight against formidable foes to save the world from mayhem! However, Max must deal with day-by-day problems, such as school, bullies and at the same time save the world. Max and Steel will be finding out new things about their lives and also uncover the mysterious dark secrets that N-Tek has.
Please Read Before you Explore!
This wiki has a considerable amount of spoilers from episodes and movies that you might have not watched.  So whatever you do, if you don't want to read spoilers about the series, then watch the series before you read some spoilers from it. The articles are also protected, you might have to contact the founder of the founder of the Wiki or other admins to unlock them.
Wiki's Statistics!
This Wiki has 1,122 articles ever since August 4, 2013!
This Wiki has 30,965 edits ever since August 4, 2013!
This Wiki has 8,277 files ever since August 4, 2013!
This Wiki has 4 Active Users right now!
This Wiki has 12 admins ever since August 4, 2013!
Official Links!
Mattel.com. - The official site of Mattel, the main creator of Max Steel franchise.
Maxsteel.com - The official website of Max Steel. There, you can get badges, learn more about characters, can play games, and more!
Image of the month!
Helping Out!
We currently have 1,122 articles, and 8,277 files, since August 4, 2013!
N-Tek Wants You!
You can also edit this Wiki! Through the box below, you can create any kind of article. But remember: don't create pages for fan-made characters, only create necessary articles, not duplicates or with offensive purposes!
Happy editing!
<createbox> break=no buttonlabel=Go Turbo! </createbox>
In other countries!
Max Steel Reboot News!
The first wave of the 2018 action figures hit the store shelves.
The official website was updated. Check it out!
Max Steel: Turbo-Warriors airs on Latin America on July, 29.
The second half of the 2017 toy line started to hit the shelves. The boxes of the upcoming Turbo-Warriors film states that the main villain of the film will be the worst threat so far.
After Turbo-Charged's debut on TV, the Official Website was updated to match Max's new green T.U.R.B.O. Energy. Additionally, the YouTube channel was also updated.
The first half of the 2017 toy line was released in the official website.
Article of the Month!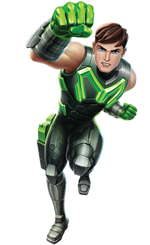 Maxwell McGrath is one of the protagonists of Max Steel alongside with Steel. After he discovers that he is capable of generating T.U.R.B.O. Energy, the most powerful energy source on Earth, he is taken to N-Tek, where he is linked with Steel and becomes the superhero Max Steel.
Did you know ...?
... That Berto has four brothers and a sister named Rayne Martinez, who is a member of Team Turbo?
... That in the Bonus Clip "Hosed", Max takes a shower and his bare is shown, though that it was stated in Come Together Part One that he could not take the Steel Suit off?
... That most of Max's major enemies have their names based on latin words or either directly taken from them, such as Makino, Mortum and Nexus?
... That most of Max's major enemies' names start with the letter "M" or either have the letter "X" in their names?
... That Max Steel was once nominated for the BAFTA 2014 Kids' Vote television category?
... That the Official Website once used one of Max Steel Reboot Wiki images on the profile of The Elementors?
... That currently, the toy line has two designers?
... That it is currently unknown what the "N" on N-Tek means?
The Wiki Staff
Questions? Suggestions? Critiques? Talk with those admins.
Polls
Characters in Max Steel

Team Turbo
Max Steel

 ·

Alejandro Villar

 ·

Rayne Martinez

 ·

C.Y.T.R.O.
Allies
Commander Forge Ferrus

 ·

Berto

 ·

Jefferson Smith

 ·

Kat Ryan

 ·

Molly McGrath

 ·

Jim McGrath

 ·

Commander Parker

 ·

Furbo and clones

 ·

Ven-Ghan

 ·

T.J.

 ·

Torbolt

 ·

Soldiers

 ·

Scientists

 ·

Sydney Gardner

 ·

Kirby Kowalski

 ·

Butch

 ·

Knockout

 ·

Power Wing

 ·

Quickfire

 ·

Professor Connors
Main Antagonists
Miles Dread

 ·

Makino

 ·

Morphos

 ·

Professor Mortum

 ·

Dr. Prometheus Halifax

 ·

Lord Nexus

 ·

Extroyer

 ·

Toxzon and Fishy

 ·

The Elementors (Fire, Earth, Water, Air,Ultimate, Metal and Mega)

 ·

Jason Naught

 ·

Ultralinks (Drone, Fighter, Makino Elite, Raider, Stealth, Stinger, Spiny, and Tweezer)
Minor Antagonists
Alien Scientist

 ·

Avatak

 ·

Axel

 ·

Blast Link

 ·

Bone Links

 ·

Butch Link

 ·

Centipede Links

 ·

Chomp Link

 ·

Colonel Jasper F. Castle and his army

 ·

Dread Naughts

 ·

Dwayne

 ·

Earth Elementor (Species)

 ·

Forge Link

 ·

Goopanoids (Acid, Green Toxin, Nano, Radioactive and Toxic Bacteria)

 ·

Gun Links

 ·

Human Morphos Hybrids

 ·

Kirby Link

 ·

Lizard Links

 ·

Makino's Clones

 ·

Megalinks

 ·

Monstro

 ·

Morphos' Clones

 ·

Murakami

 ·

N-Tek Link

 ·

Nexus Agents

 ·

Night Howl

 ·

Plaztek

 ·

Prism Link

 ·

Ragnok

 ·

Reaper Links

 ·

Robot Zombies

 ·

Rock Links

 ·

Sewer Monsters

 ·

Snare

 ·

Super Mud

 ·

Sydney Link

 ·

Tank Links

 ·

The Ninjas

 ·

Thieves

 ·

Toxic Zombies

 ·

Turbofied Dread Naughts

 ·

Vin

 ·

Worm Links

 ·

X376

 ·

Zelak
Others
Alien Scientist's Assistant

 ·

Cobrassaurus

 ·

Commander Kilgore

 ·

Copper Canyon High School Coach

 ·

Copper Canyon Mayor

 ·

Copper Squatch

 ·

Cute Girl

 ·

Dean

 ·

Dr. Thornhill

 ·

Dean

 ·

Donnie

 ·

Firefighter

 ·

Georgina Romero

 ·

Hero-Man

 ·

Hot Dog Vendor

 ·

Intern

 ·

Jake

 ·

Jimmy Blaze

 ·

Klean Kal

 ·

Laser-Lass

 ·

Lewis

 ·

Mama Moco

 ·

Martin

 ·

Max's Old Neighbors

 ·

Mortum's nephew

 ·

Mr. Jones

 ·

News Reporter

 ·

Police Officer

 ·

THI Security Guards

 ·

THI Technician

 ·

THI Workers

 ·

Tachyon Soldiers

 ·

The Black Star Council Councillor

 ·

The Ninjas

 ·

The Vendor

 ·

Toxic Piranhas

 ·

Toxic Seagull

 ·

Troy's Pet Tiger

 ·

Truck Driver

 ·

Unnamed Blonde Woman

 ·

Unnamed Copper Canyon High School Student