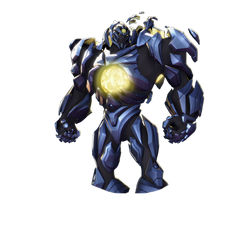 Makino Main Mode
is the standard mode of
Makino
. With this mode,
Makino
doesn't have any special ability, with the exception of the Technokinesis, and super strength, speed and durability. It first appeared in
Earth Under Siege Part Two
.
Origins
This mode was created when Makino linked with his creator, also incresing his body mass.
Abilities
Superhuman Strength: Makino is more powerful than an average person.
Superhuman Speed: He is faster than an average person.
Superhuman Endurance: Makino is extremely resistant in this mode, since he can be attacked by many of Max's modes and return to fight harmless.
Technokinesis: With this ability, he can control the technology around of him.
Tech Absorption: Makino is able to absorb anything that is made out of technology, and later absorb it to make him more powerful, also creating new modes to his arsenal.
Size Alteration: He can alter his size by consuming walls and floor of any Makino Ship that he is on.
Regeneration: Makino is able to regenerate himself in some days.
Gallery
Trivia
This mode noticeably retains some characteristics of the original Makino, like the sphere present on his chest, as well his Ultralink that resembles a sphere that he had on his head.
Community content is available under
CC-BY-SA
unless otherwise noted.