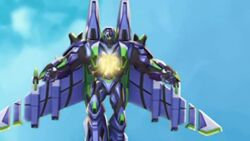 Makino Jet Mode
is
Makino
's second mode. This mode is able to fly in the sky, and launch missiles. It first appeared in
Makino Strikes: Part One
.
Origins
When Makino was watching Miles Dredd, Mega Elementor, Forge Link, and the Evil Ultralinks breaking into N-Tek's Secret Base, Makino absorbed the parts of an N-Tek Jump Jet.
TV Show
When Makino got his mode, he went after Makino. Later, he found him, and they started to battle, but Makino was a way too powerful and durable for Max Steel, but later, Max managed to temporarily take down Makino. He woke up and captured Steel, but was throw in a portal that Ven-Ghan opened, and later went to a Makino Destroyer.
This mode was seen again when Max Steel invaded the Makino Destroyer alongside with Ven-Ghan. When Max unlocked Turbo Rocket Mode, he managed to defeat Makino while he was using this mode.
Abilities
Wings: Makino gets the ability of flying with blue wings on his back.
Gallery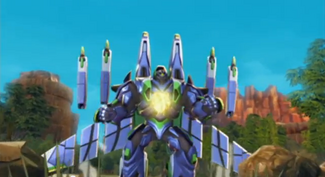 The Gallery of Makino Jet Mode can be seen Here.
Trivia
In the game, Turbo Tactics, Makino appears in his Jet Mode in the last level of the first stage.
There were few toys released based on this mode. However, none of them had the same characteristics as the animated version, being mostly the same when compared with Makino's main mode, though that they still had some silver pieces and wings, resembling the parts of the jet.
Community content is available under
CC-BY-SA
unless otherwise noted.