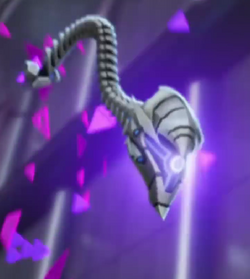 Makino Elite Ultralinks
are a rare subspecies of
Ultralinks
featured by their loyalty to
Makino
and their highly agressive behavior. One of them appears for the first time in
Ultralink Invasion Part One
.
History
A squadron consisting of four Ultralinks were sent to Earth and one of them was a Makino Elite Ultralink, who later on would bond with crystals to create Prism Link, a recurrent enemy on the second season.
Variations
Blue
These Ultralinks are like royalty - capturing one is a big deal!
Orange
This variation is solely seen in the series. Prism Link is the only known orange variant.
Appearance
They design differ a lot from other Ultralinks. Their head possesses similar traits of other Ultralinks and there is a long, segmented tail attached to their back (making them similar to snakes) with a spike on its tip.
Known Makino Elite Ultralinks
Trivia
In Ultralink Invasion Part One, Prism Link's Ultralink form is blue, but after he links with the crystals, it changes to orange. This is a common goof on the episodes of the second season with other Ultralinks.
Some of them are security consoles of the Makino Destroyers. In Battle Stations, Steel was flirting with one.
Characters introduced on Season 2 appears in blue.
Community content is available under
CC-BY-SA
unless otherwise noted.