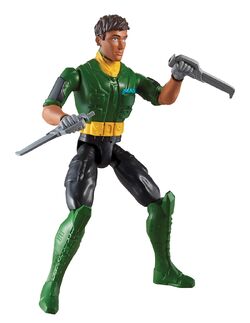 Jungle Mission Max Steel
is an action figure based on
Max Steel
. It was released on 2016 on the first wave of action figures.
History
"With Max's agile reflexes, as well his impressive abilities with sword, it is hard to be defeated while he fights against Morphos and his claw attack!"
Description
On this toy, Max's face is fully seen, and like other figures of 2016, he is older. Max uses a yellow blouse over a green jacket, a yellow belt on the waist, grey gloves, black pants, and green boots. Like other figures of the line, he is not using Steel, but instead, there is only the "MAX" logo. He has twelve points of articulation, and doesn't comes with any accessories.
He also have a gimmick consisting in uniting the knifies that he has on both hands to great a bigger one.
Trivia
It is the first figure of Max Steel where he is not using any Turbo Mode or some kind of armor. It is also the first figure where other parts of his body are shown, instead of only being the head.
Community content is available under
CC-BY-SA
unless otherwise noted.