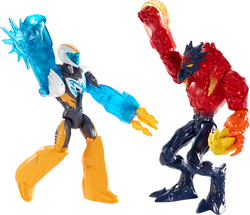 Grenade Peaks Max vs Lava Elementor
(Unofficial name) is an battle-pack with two characters, being them
Max Steel
and
Lava Elementor
. It was released in 2015 in the second wave of action figures, and is a part of
Battle-Tek
line.
Description
Max's helmet is completely white and has a orange line that goes from the back of the helmet to his visor, which is transparent blue. Max wears a black medium-sized armor with orange details on the below the chest, thighs and large boots, which are completely orange. He also have white shoulder pads and large cannons, possibly inspired on Turbo Heat Mode's cannons. The left cannon is completely transparent and has a spiky shield and the right cannon possesses three openings capable of launching three projectiles. His left cannon is capable of spin and also has a light-up feature.
Elementor's head is completely dark blue and possesses three spikes on each side of his head, he has yellow eyes and a red energy core on his forehead. Lava Elementor's body posssesses a rocky and irregular aspect and half of his body is red, while the other half is dark blue. Half of his right arm is also orange. Both arms of Elementor are capable of launching projectiles.
Trivia
It was the first figure where Elementor possessed articulation on the elbows.
Community content is available under
CC-BY-SA
unless otherwise noted.