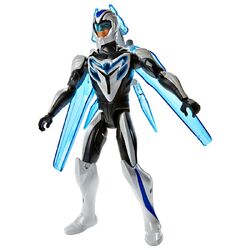 Flight Max
is an action figure based on
Max Steel
using the
Turbo Flight Mode
. The figure was released on 2016, and is a part of
Connect-Tek
line.
History
"Elementor is ready to attack, but Max activate Turbo Flight Mode and triggers his rocket launcher to stop the storm!"
Description
Max has a white helmet with blue and black details on it, and has a blue transparent visor that covers his eyes, while the rest of his face is shown. Most of his body is made on black plastic, but he has white paint job on the shoulders, torso, and legs. He comes with five accessories and has twelve points of articulation.
He comes with a backpack with blue paint job that has four Connect-Tek holes on it. The backpack can also launch a small projectile of Steel. He comes with a set of four wings that can be attached to the backpack to make the toy similar to the actual Turbo Flight Mode.
Trivia
Even though that the design of the toy is based on the first design of Turbo Flight Mode seen on Season 1 (which has four wings and the face of Max is not visible), the toy features the new helmet seen in the trilogy of movies of 2015, as well four wings instead of three.
Community content is available under
CC-BY-SA
unless otherwise noted.