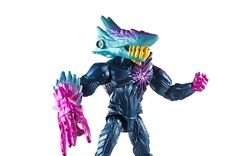 Extroyer Sharktopus
, also referred as 
Ocean Mutant Extroyer
 is one of the
character
's action figures released in 2015. It was released in the first half of said year and belonged to the
Connect-Tek
subline.
Description
Extroyer has a pale skin tone, white eyes, yellow teeth and the back of his head is larger than usual, having a deformed shape and rock-like aspect, also gaining a pink shading on the top of his head. He wears a dark blue armor, has many crystals incrusted on the left side of his chest and his left arm has a rocky aspect. The figure has ten points of articulation and comes with two accessories.
The figure comes with a shark with an articulated jaw, which is compatible with Extroyer's head or can be either inserted in the hex ports of his forearms. He also comes with a octopus, which fires a projectile.
Gallery
Trivia
The shark that Extroyer comes with is only compatible with this action figure.
Although Extroyer's shark transformation wasn't seen in the show, it gained his own figure.
It is the only figure of Extroyer to not feature his mutated arm.
The figure reuses most of the molds of Quick Strike Extroyer, released in 2013. The head and legs molds were also changed. The first is in a ball joint in order to gain more mobility to the shark head and the articulation in the knees were discarded, thus the legs are only one piece rather than two.
Community content is available under
CC-BY-SA
unless otherwise noted.