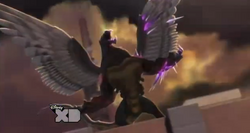 Extroyer Chimera
is one of 
Extroyer's
 transformations. This transformation is a very powerful and monstrous transformation. Extroyer was turned into this because of 
his device
. He used 
Steel
 and also 
his own Ultralink
, to turn into this transformation. This is like an ultimate transformation of Extroyer's, but was defeated by 
Maxwell McGrath
 (Who had a helmet so that Extroyer couldn't see his true identity) and then Steel was back with Max. The transformation is mixed with black tiger, spider, black cobra, gorilla, harpy eagle, polar bear, and saber-tooth tiger. This transformation made him look like a dragon or like a mythical creature. This transformation first appeared in 
Making the Grade
.
Origins
When Extroyer finally had Steel in his hands, he had big plans for him. He used a device he made and then he inserted it on his Ultralink with Steel connected on it. Then when he was Extroying into an animal, the two Ultralinks helped him to mix all hid transformations and turn into a demon with the parts of all his modes, into one.
Gallery
The Gallery of Extroyer Chimera can be seen Here.
Trivia
This form allowed Extroyer to use the abilities of a polar bear, harpy eagle, saber tooth tiger, and all his other powers.
This transformation was a very scary.
Extroyer Demon's head looks a little bit similar to a villain from Ninjago, who was like Extroyer, had his normal transformation, then he later got powerful to destroy his enemies.
It is said that Extroyer also used shark, scorpion, and Tyrannosaurus Rex.        
The transformation was seen like always.
Community content is available under
CC-BY-SA
unless otherwise noted.