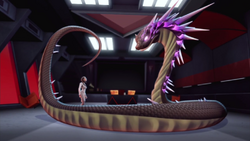 Extroyer Black Cobra
is one of 
Extroyer
's transformations. It is Extroyer's fourth transformation in the
Max Steel (2013 TV Series)
. He is big and very dangerous that he has a venomous bite that can be deadly. This transformation is also terrifying as his other transformation; 
Extroyer Black Tiger
, 
Extroyer Shark
, 
Extroyer Spider
,
Extroyer Gorilla
, etc. This transformation was extracted by Extroyer as an Animal's DNA Sample from the 
Package of Animals' DNA Samples
.  Extroyer Black Cobra first appeared in 
Driven
.
Origins
In Driven, Extroyer has the Package of Animals' DNA Samples and then he gets one of the glass bottles and then Extroys into a Black Cobra by extroying the DNA Sample of a Black Cobra.
Appearances in Episodes
In this episode, Extroyer has a package with animals' DNA samples that he can extract to defeat his enemies like Max Steel and Miles Dredd. Then he demonstrates that with a Black Cobra's DNA Sample. So then he breaks the glass container and then he Extroys into Extroyer Black Cobra. Then he fights with Max Steel for a short time.
When Extroyer's Ultralink was damaged when he was going to Extroy into a gorilla and was touched by Steel, he was turning into animals like crazy. After Extroyer Spider, he turned into Extroyer Black Cobra and then he attacks Steel, but then Steel puts some gas container in his mouth and then he faints and turns into Extroyer. At THI when he asked Molly to open the vault with Ultralink parts, he turned into Extroyer Black Cobra and then tried to tell her. Then when he waited for Max Steel to come, he captured Molly and was hanging her in the window, but then Max came with the part.
Gallery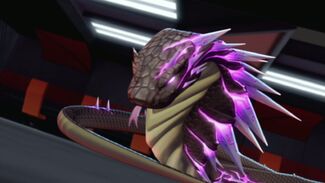 The Gallery of Extroyer Black Cobra can be seen Here.
Trivia
It is similar to the old Extroyer Snake, but it was a tropical snake, not a cobra. It looked like this. It is similar like for example, it is big also, but the old one was purple and this one is black.
This one appears in other episodes where Extroyer appears, like in Scrambled.
As seen in Scrambled, when he grabs someone with his tail, when he turns to his normal form, he is holding the person he is holding with his hand, since his tail can be used as an arm for him.
As you can see, he has very long sharp fangs.
This is Extroyer's first cold-blooded and reptile animal he turned into.
Extroyer Black Cobra is one of the giant transformation, where what he turns into, is not the exact size or actual size of the animal, like Extroyer Black Tiger.
This is part of Extroyer Demon. 
Community content is available under
CC-BY-SA
unless otherwise noted.