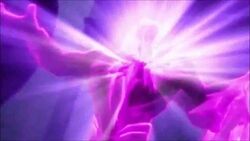 Extroyer's Transformations
 are the many forms that
Extroyer
is capable of assuming. Most of these forms are animals, even though that he once managed to transform into one of
Max Steel
's
Turbo Modes
,
Ultralink
aberrations, mythical creatures or some beast that doesn't exist. Some of his modes also have the exact same characteristics of the animal, such as the size.
When Extroyer morphs into a creature, it is called Extroying (a verb created by Steel in Extroyer Unleashed). When he does this, the animal becomes a part of him and his Ultralink, located on the left part of his chest, starts to glow light purple until he fully transformed into said animal.
Origins
Ever since Troy Winter infused with the damaged Ultralink that he stole from N-Tek, he got the ability of transforming into any kind of animal or creature.
List of Transformations
Extroyer's standard and default mode. In his main mode, he is capable of taking the form of a specific animal by simply touching it with his mutated hand or staring at his/her eyes.
Extroyer's very first animal mode. Extroyer gets the same abilities and characteristics as an actual tiger, but they are all enhanced.
Trivia
All modes have fragments of crystals.
Community content is available under
CC-BY-SA
unless otherwise noted.