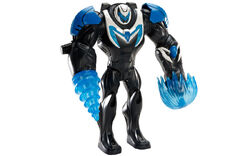 Drill Strike Max Steel
is an action figure based on
Max Steel
in the
Turbo Strength Mode
with the
Turbo Drills
. There was two versions of this figure, one was released in Latin America, and the other, was released in USA. The Latin America version is bigger and bulky, while the USA one is smaller. The Latin America version was released in 2014 in the first wave of figures, part of the
Aerial Invasion
, while the USA version was a part of the
6 Inch Line
.
Description
Latin America
The Latin America version, was bigger and bulky than the USA version, but the gimmicks were still the same. In this version, the predominant color was black, while the figure had white and blue details. The figura comes with one accessory, and have six points of articulation.
The figure is able to spin the drill in the left arm, and in the right arm, is able to launch the blue transparent projectile. Also, when Max's head is pressed, his arms will elevate.
USA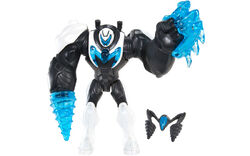 The USA version, is smaller and have more details than the Latin America version. The figure is mostly black, like his Latin America counterpart, and have white details alongside with blue parts on the arms. The figure have seven points of articulation, and comes with two accessories.
Max is able to spin his drill, and launch the spikes of the right arm. Also, he comes with a Steel mini-figure, that can jump when pressed.
Community content is available under
CC-BY-SA
unless otherwise noted.