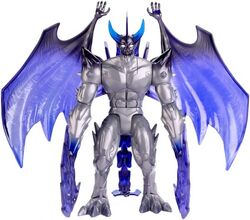 Dragon Terrorax
is one of
Terrorax
's action figures released in 2017. It was released on the second wave of action figures and is a part of both
Connect-Tek
and
Turbo-Warriors
sublines.
History
Dragon Terrorax VS Max Steel TransformTek Robot: Max Steel TransformTek Robot goes from a buggy to a mechanic suit! Will it be enough to take down Terrorax and the beast that he has inside?
Max Steel TransformTek Robot VS Dragon Terrorax: Dragon Terrorax counts with a hidden enemy! Only Max Steel TransformTek Robot can destroy these two beasts!
Cyclo-Spin Bike & Max Steel VS Dragon Terrorax: When Dragon Terrorax and his secret beast attack, can Max defeat them with his Cyclo-Spin bike?
Description
Compared to other figures, Terrorax is slightly bigger, standing around 5cm bigger than them, His body is completely grey with dark grey spikes on his shoulders, legs and its face, which is completely dark grey. He has white eyes, a horn on both sides of his head and on his forehead and his mouth is shaped like if he was always smilling. He has a pair of large, purple bat-like wings with dark purple arms, purple spikes on his back and a segmented tail. He has dark purple axes for both hands and has three toes. He has eleven points of articulation and comes with three accessories.
Terrorax comes with a pair of wings which can be inserted on the mini beast that he comes with, which is completely purple and features a disfigured skull for its face and a segmented tail. Said beast can hide itself on Terrorax's back. He has a pair of levers on his back which can movement his arms. Once something hits the center of his body, the beast will be released, whose wings can clap.
Gallery
Trivia
In the animation, Terrorax's dragon form differs a lot, especially his mini dragon form.
A TV Spot was released for both Max Steel TransformTek Robot and Dragon Terrorax.
Community content is available under
CC-BY-SA
unless otherwise noted.