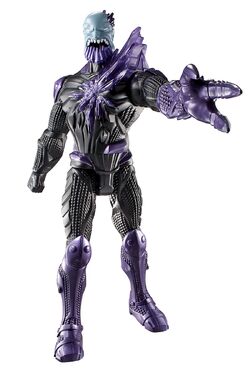 Colossal Extroyer
is one of
the character
's action figures released in the second half of 2017. It is a part of both
Turbo Missions
and
Connect-Tek
toy lines.
Official Description
"Unleash mayhem with this 18-inch, menacing and towering Colossal Extroyer figure! Extroyer can absorb and repurpose any animal he touches; now he will wage extreme chaos, only Max Steel can stop him now. With multiple points of articulation, iconic features and fists of fury, he is ready for epic battle action and monstrous posing! Colors and decorations may vary."
History
Mega Extroyer VS Double Blast Max Steel:  Double Blast Max Steel is ready to defeat Mega Extroyer with his two blasters!
Description
Extroyer has the same appearance as his main mode. He has bluish skin color, white eyes, purple spiky teeths, his jaw is entirely made out of sharp crystals and the left part of his head has few crystals protuding from it. He wears a damaged black armor with purple shoulder pads, purple boots and a purple strip on his lower waist. The left part of his chest has many crystals incrusted onto it and his left hand has three clawed fingers and crystals protuding from it. He has six points of articulation and doesn't comes with any other accessory. Additionally, he is around 10cm bigger than a basic action figure, being one of the largest toys in the line alongside with Double Blast Max Steel and Super Sword Max Steel.
Gallery
Trivia
Even though that this figure was first unveiled in the first half of 2017, it was only released in the second half of the same year.
It was relaunched in 2018.
A version with enhanced articulation (possibly containing twelve points of articulation) was made exclusively for a video for the Mexican YouTube channel of Max Steel.
Community content is available under
CC-BY-SA
unless otherwise noted.