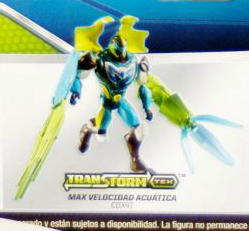 Aquatic Speed Max Steel
 (unofficial name) was one of
the character
's action figures planned to be released on the second wave of action figures, but it was never released. It was supposed to be a part of the
Transform-Tek
toy line.
Description
Max has the same helmet as that of Turbo Scuba Mode, but instead of being black-white-blue, it is green-black-blue. Max's upper torso is more robust looking than the rest of his body. He has Steel connected onto his chest and is mostly blue with light green dtails on the waist and the lower torso. His back also feature a pair of pieces that possibly covered his torso, probably as a part of the transformation process. He has black shoulder pads, blue forearm armor and blue gloves. He has green armor on his thighs and black boots with white knee pads. He would come with two accessories and most likely would have twelve points of articulation.
Max would come with a green blaster with blue projectiles and what seemed to be a shield. Besides he had a pair of green plates on his back that implies to be a part of his transformation mechanism.
Trivia
It was the only figure of the 2015 line that wasn't released, still by unknown reasons.
Community content is available under
CC-BY-SA
unless otherwise noted.